News & Events
Jan 16, 2018
On The March
---
Robin Hood is planning to hike more than 400 miles from Dumfries to the Cenotaph in London next year.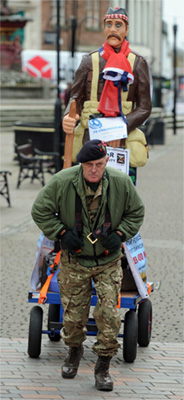 He will be pulling Southwest Scotland RnR's mascot Jock – a 20-stone statue of a Scottish squaddie – in a bid to raise £20,000 for the charity.
Robin tested his trolley for the first time recently, pulling it 31 miles from his home to Dumfries.
He said: "I'm feeling a bit jaded from it to be honest. He's a big heavy boy. It's really tough going but the support I've had has been brilliant. I've already raised £600 and all the money will go straight back into the charity."
Robin is aiming to set off next October and arrive at the Cenotaph on November 11 in time for the ceremony marking the 100th anniversary of the end of World War One.
He said: "This is such an important anniversary and from a military perspective this is significant to me as my great-grandfather was killed at Gallipoli and my grandfather, was killed at Dunkirk."
Robin's training will now see him walk the statue from his home to Dumfries and back each week and when the going gets tough he will use the memory of his daughter Alex, who died aged 19 from a rare skin cancer, to keep going.
He said: "She's my inspiration. She had morphine 24/7 just to stay alive, so in comparison to what she went through this is absolutely nothing."
He will be joined on parts of the walk by Gordon Brown, Cherie Blair, Frank Bruno, Lord Archer and Simon Weston.