Activities
We offer a wide and varied range of activities to cater for all levels of ability, which will be both fun and often challenging. The programme can be tailored to suit individual groups and needs.
Fishing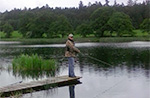 The fishing has been a popular activity both with serving and veterans finding it very therapeutic we do both fly fishing and more recently bait fishing but are always looking for other types of fishing to expand on the variation that we do. We have willing instructors to help and offer friendly advice. Two web sites worth a visit are: Gorsebank and Drum Loch Fishery
---
Shooting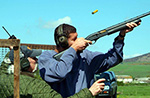 The clay pigeon shooting proved so popular with the boys who took part during SWS RnR's first year an annual competition has now been organised. Shooting instructor Ken Bennett, who has coached countless people from all walks of life - "and enjoyed the company of them all" - to shoot, is grateful to his many contacts in the trade for their support of the project.
---
Watersports

The Galloway Sailing Centre on Loch Ken, Dumfries & Galloway, often plays host to the injured service personnel who come on holiday with SWS RnR. All kinds of water sports from sailing to kayaking are on offer but there are also lots of land-based adventure activities available.
---
Historic Houses
Drumlanrig Castle - Immerse yourself in history at majestic Drumlanrig Castle. The finely hewn red sandstone that gives the 'Pink Palace' its affectionate name, adds to the beauty of what is regarded as one of the finest examples of 17th Century Renaissance architecture in Scotland. Drumlanrig Castle web site.
---